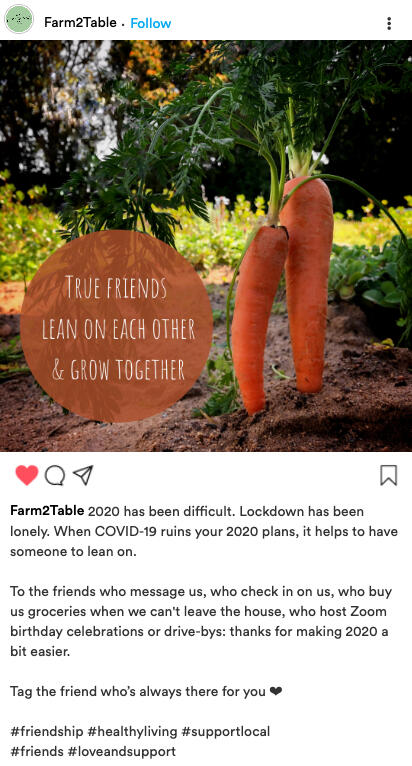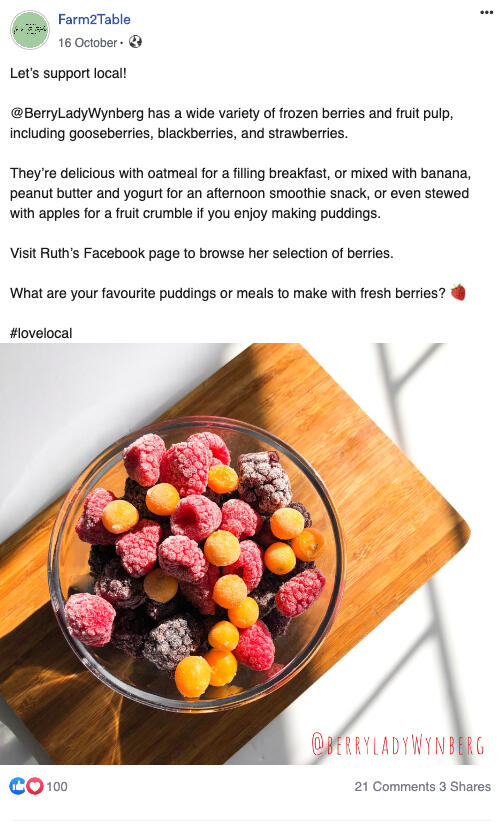 FARM2TABLE | Digital presence and marketing strategy on Facebook, Instagram, and a website
Brief: Create an online presence for a small local business that had suffered as a result of COVID-19. This involved creating a content plan, identifying a target audience, creating a website, and putting together a presentation to introduce the new digital strategy.

Insight and process: I chose a local business called Farm 2 Table and rolled out the content plan across Facebook and Instagram. I noted how small businesses were gaining visibility on Instagram and attracting support, especially from young adults looking to buy from smaller brands, and aimed to establish Farm 2 Table as one of these small local businesses.
---
THE RED AND YELLOW CREATIVE SCHOOL OF BUSINESS | Content video
Brief: I had to conceptualise, write the script, film, and edit a video that represented my resonance with one of Red and Yellow's values.

Insight and process: I chose the value of "Persistence" and related it to my writing journey and insecurities. I didn't want the narrative to be too literal, chose not to rely on music and set design instead of dialogue, and I purposefully used symbolism to convey the different emotions and the sinister, dramatic tone.
---
AMY NIKITA - My personal brand | Podcast series
Brief: Create a podcast series for a brand, research and identify a target audience, write the scripts (and draw up a storyboard for the trailer) and perform post production.

Insight and process: I wanted to raise awareness about the dangers of romanticised abuse in books and films. Romanticised abuse is not something many people consider dangerous, and I wanted to change that; by choosing a target audience (young adults) who are vocal on social media about important issues, I hoped to raise that awareness.
---